Haukedalen Fiskeferie
Next Down
Next Up
Danish version
May I come up with some good advice, in case you catch a good trout for the smoke oven, buy from saxo these two books: Kringelbach's Salt and Smoke Book and Preben Madsen's Salting and Smoking. You will find really many good recipes. Go up and find these books on saxo's search engine and buy them by email. It's fast and cheap. Search for: Kringelbach: Salt and Smoke Book and Preben Madsen: Salting and Smoking.
Haukedalen Fiskeferie
Terje Aarskaug
6818 Haukedalen
Phone: 0047 57825136 aften
Mobil: 0047 91792276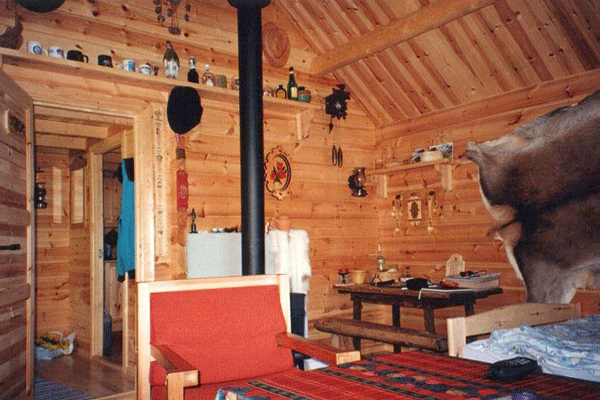 The living room in the cozy newly restored säter cottage by the mountain lake
Contact my Sponsor: Terje Aarskaug for further information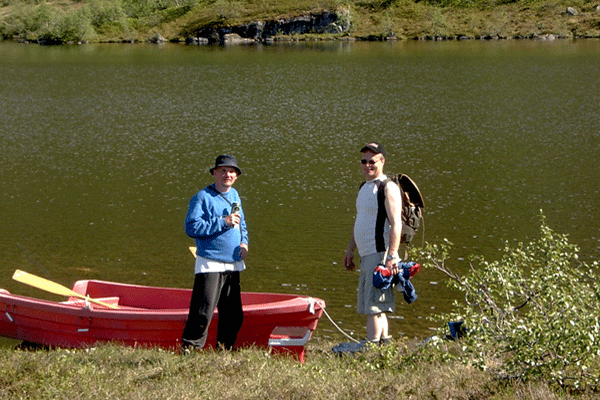 Your own boat belongs to the setter cottage. Jan and Terje are ready to row out
Haukedalen Fish Holidays
can offer fishing in Haukedalsvandet which is famous for its beautiful trout in Norwegian called aure. In Haukedalselven fisheries can also be offered for 3 zones max 6 rods with giant, fine trout which is completely red in flesh and in top condition. Here you can fish with fly, worm or spin. Moreover, there are also three boats available to the fishery with lifejacket.
Would you like to visit the site please contact Terje. Accommodation in the
huts
can be found here. An alp-hut 600 meters above sea level. In addition you run the 1.5 km up to the lake on the tractor with your gear. The last 500 meters you go by rowing boat over to the hut and then carried the luggage 100 meters up to the hut. The second cottage is located down at the farm where the approach by car is possible. Second chance for fish is 40 km to the sea for cod and saithe and 50 to 100 km for salmon in rivers.
The starting point for the trip to Förde is Oslo. From Drammenvejen E-18 run through E-16 toward Hønefoss
60 km
. Here you have really two options to get to Lærdal. If you choose to continue along E-16 over Filefjellet takes you through Nes, Bagneres, Fagernes and Lærdalsøyri. A distance of
280 km
. It is the fastest way. We took this on the outward journey.
If you choose the second option, you must take in Hønefoss rigsvejen 7 over Hallingdalen toward Gol. In Gol you take into the rigsvejen 52 over Hemsedalsfjellet toward Lærdal. Before coming to Lærdal you find E-16 again. Her you turn left toward Lærdalsøyri. A distance of
315 km
. The most beautiful way. We took it on the home tour.
Do you have some hours available and wants a break, you should visit the
Norsk Villaks Senter
in Lærdaløyir:
From Lærdal you must cross over Lærdalsfjorden with a ferry from Fodnes to Mannhiller. Sailing time 15 minutes cost NOK. 92.00 for car and driver plus NOK. 31.00 per adult. Pendulum Speed.
Run from the ferry at rigsvej 5 toward Sogndal
10 km
. In Sogndal run left onto rigsvej 55 toward Hella
36 km
. Here, take the ferry for 10 minutes sailing to Dragsvik price NOK 44.00 for car and driver plus NOK. 19.00 per adult. First ferry at 06.00 last ferry at 23.45 in summer.
In Dragsvik run right over Gaularfjellet on rigsvej 13 to Förde
100 km
. It is a national tourist route with fine scenery and 8 % increases of approx. 10 km.
30 km
before Förde you shall find Haukedalsvandet. Then approx.
11 km
into the valley to get to the fishing water. A
map
of the site can be found here. Total from Oslo to Haukedalsvandet
470 km
. Driving time approx. 8 hours, with some small accommodation and ferry crossing.
Let me mention a second road from Sogndal to Förde if there are some ski buddies who want to ski in the winter. In Sogndal run to the right of rigsvej 5 toward Skei. In Skei run to the left of E-39 toward Förde.
10 km
before Förde in Moskog run to left toward Haukedalen
20 km
. Please note NOK 150.00 toll on this route. But you save the ferry Helle - Dragsvik.
For all Dane with sensitive skin. There is not the mosquito and "knot" (a tiny little fly) plague as in northern Norway because we are in the west country with fresh winds from the North Sea. If you will secure yourself, so buying mosquito repellent in Norway, it works. It does not the Danish mosquito repellent.