I
am writing this page for Cell phone in English with
Google translator
. Click the
Danish version
and see the original Danish website.
Personal information:
Hometown: Varde
Hobbies: Fishing, Hunting, Electronics and IT
Educational background:
Electronics engineer 1969, Odense Technical College
Radio and TV mechanic Håndværkerskolen in Sønderborg 1964
In apprenticeship: Varde Radio & TV 1959 to 1964
High School Exam 1959,
Sct. Jacobi School
Employment background:
F L SMIDTH A/S from 1991 to 2001
NTP ELEKTRONIK A/S from 1988 to 1991
MEDIMATIC A/S from 1984 to 1988
DISA ELEKTRONIK A/S from 1971 to 1984
Engineer troops, Farum 1970
Bosch, Lange Jørgensen, Odense 1969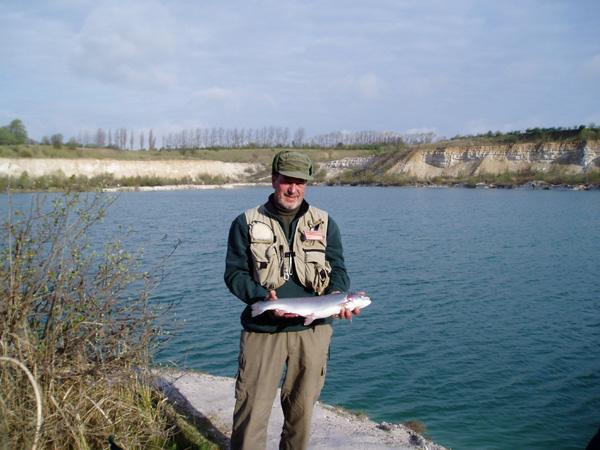 A lovely spring day at Karlstrup Limestone Quarry with a beautiful rainbow trout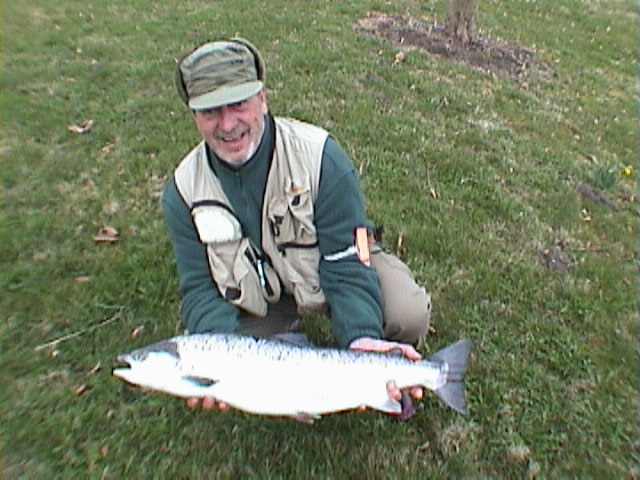 Another beautiful spring day by Stensån, Sweden with a shiny salmon of 5.5 kg

F L SMIDTH A/S 1991 to 2001
Employed as an engineer for export processing of market areas: Norway, Sweden, Austria, Switzerland and Indonesia.
Branch of trade: Cement industry, Paper and Pulp, Cellulose Plants, Lime Plants and Magnesite Plants with spare parts, merchandise, standard machines and OEM products and services to customers. The work requires a high level of autonomy and ability to work systematically and purposefully to achieve a substantial sales over a short period.
From 1994 system programmer in QPRO, Lotus and Excel and from 1998 IT coordinator for the sales department.
NTP ELEKTRONIK A/S 1988 to 1991
Employed as a sales engineer with market areas: BRD, Austria and Switzerland.
Branch of trade: Radio and TV stations and Post & Telegraph with measurement equipment for control of audio signals, and the "sound matrix fields" for routing of sound from source to consumer. The systems are complex and apply for much software control.
MEDIMATIC A/S 1984 to 1987
Employed as Regional Sales Manager with market areas: Scandinavia, EU, Switzerland and North America.
Branch of trade: Hospital sector and private clinics with medical electronic measuring equipment with an emphasis on:
Ultrasonic Doppler
and
Strain Gauge Plethysmographer
for non-invasive studies of peripheral vascular diseases.
SPECT
system for non-invasive studies of blood flow in the
brain
. The system is based on a large amount of software for processing of a high definition image of the brain. It is a diagnostic device which is aimed at neurologists, cardiologists, physio scientists and surgeons.
DISA ELEKTRONIK A/S 1971 to 1984
Employed as a sales engineer with market areas: Eastern Europe, ASEAN, Taiwan, Hong Kong, Korea and Western Europe.
Branch of trade: Hospital Sector with electromedical measurement equipment (capital goods) and consumables, with an emphasis on
EMG
,
EEG
and
Urology
. Diagnostic and therapeutic devices aimed at neurologists, neuro-physio scientists, psychiatrists, ophthalmologists (throat, nose, ear) and Urologists.
Branch of trade: Industry with the scientific research equipment (hardware) and systems (software) with emphasis on
LASER
(velocity, flow and vibration),
Hot Wire Anemometer
(velocity, flow and temperature),
Capacity transducer
(pressure and displacement).
Courses and association work under the above jobs:
Tack Management: Sales Training
Industry Council: Selling to the industry
Eastern Countries Club: Sales to Eastern Europe
AKP Management Services: Sales Course
F.L.S. internal: WordPerfect, Lotus, QPRO, Excel,
Word, Access and PowerPoint
F.L.S. External: Cement technology Kjellerup E. Hansen
Allan Hjorth: International communication and behavior
Association's work in FLS social associations in 10 years
President of FLS Anglers Association in 6 years
Written an article
"Tutorial in sales techniques
My work with Electromedical Measuring Equipment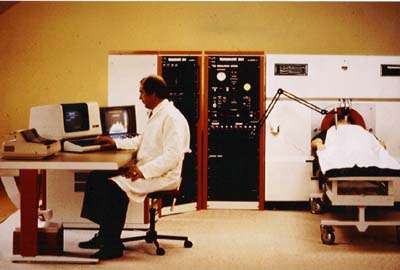 I am doing a study with a brain scanner that was later installed at Bispebjerg Hospital
Here I work with one of the first Danish brain scanners developed in collaboration with Niels Lassen at Bispebjerg Hospital. Clinical Physiological and Nuclear Medicine Department at Bispebjerg. Hospital has a tradition of being at the forefront of new technology. As far back as the 1970s, Bispebjerg was the first to perform brain scans.
My work with Scientific Research Equipment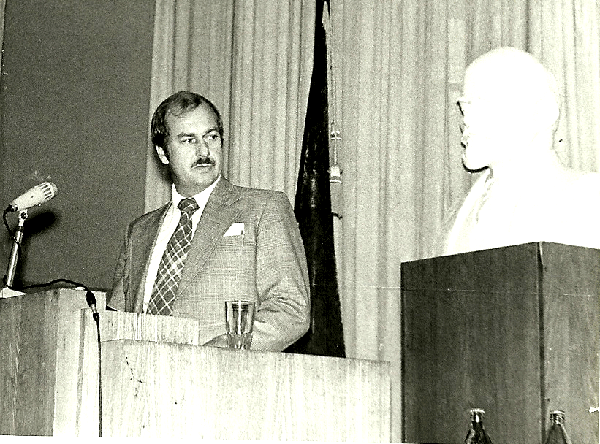 I am holding a symposium at the Polytechnic in Kiev in the 70s


At that time, the Russian navy was in the port of Novorossijsk on the Black Sea. The Russians were interested in buying equipment for contactless velocity measurements in air (supersonic) and water, and this can be done with a LASER Anemometer. However, as the city is a forbidden area for foreigners, our meeting had to be held at the Polytechnic in Kiev, Ukraine. I'm seen here on the podium, but can you guess who's looking over your shoulder?