Kort over Stensåen Mellersta FVO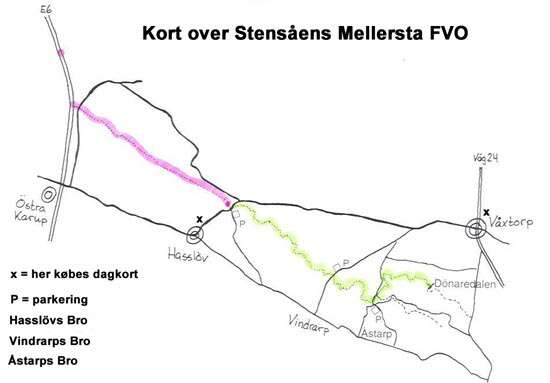 Kort over strækningen Stensåens Mellersta FVO. Her finder du strækningen på 13 km i kort form fra "Länsgränsen (E6) til Dönaredalen". Strækningen med rødt er meget ret og lige ud og mindre interessant og derfor relativ uinterssant som opholdssted for laksen. Jeg mener, at det er en gravet kanal i 1800 tallet for at dræne markerne? Strækningen med grønt er med mange sving og meget interessant og med mange gode standpladser for laksen. Der er mange muligheder for at køre direkte til åen og parkere bilen.

Map of the stretch Stensåens Mellersta FVO. Here you will find the stretch of 13 km in short form from "Länsgränsen (E6) to Dönaredalen". The stretch with red is very straight and straight out and less interesting and therefore relatively uninteresting as a residence for the salmon. I mean, it's a dug canal in the 1800s to drain the fields? The stretch with green is with many turns and very interesting and with many good stands for the salmon. There are many opportunities to drive directly to the creek and park the car.
Free JavaScripts provided by
The JavaScript Source
Tilbage til siden, hvor du kom fra.
---
---