The peel of the lemon is cut off finely so that none of the white comes with it. The peel is lightly chopped.
After 1 week, taste the Gin. Judge for yourself whether it should brew more. Juniper must carry the taste of Gin, it is a condition to call it GIN. Another condition is that the alcohol strength is at least 37.5%. The other herbs should just give you little favorite notes for the whole in Gin.
The name suggests that the Gin should be blue, maybe I should try it next time. Gin was made in Holland in the 17th century from malted grain mesh and was called Genever, which was originally supposed to be a medicine for kidney disorders. Today, Holland has two kinds of Genever - Oude (old, straw colored) and Junge (young, light and clear) Genever. Several Geneva matures in oak barrels for 3 years. The English took over Gin production when they came into conflict with France and stopped the import of Cognac.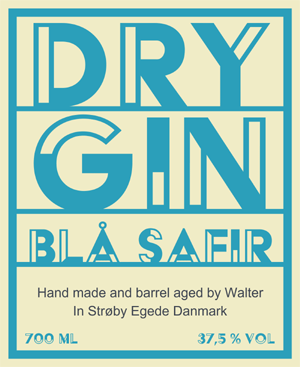 Blue Sapphire Gin
The cheap Gin from Lidl just got a "spice" and became mild, round and with many notes of the added herbs.
The fruit of the juniper -
Juniperus communis
- is actually not a berry but an cone. The first year they are green, the second year they are dark blue. Only the dark blue cones are used, the green ones have a strong turpentine-like taste.
The cones are harvested in September and allowed to air dry for a few days. Gently pound them in a mortar without crushing them and pour them into a bottle. Pour on neutral alcohol so that it covers and let the bottle stand for a week. Check regularly after each day if it is necessary to pour more alcohol on, as the cones absorb the alcohol. Fill again to cover the cones. When the week has passed, strain the mixture through a Swissgold gold filter, do not filter with a coffee filter, aesthetic oils settle in the paper. Let the essence stand for a month so that it clears and a precipitate forms. Gently decant the essence into a beautiful bottle and mix with vodka for a pleasant taste. It's reminiscent of Gin. It's Gin.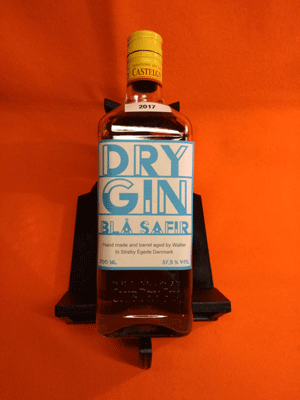 Blue Sapphire Gin
Procedure without liability
It is a bit of a rate to make your own Gin, because the taste and color will probably be different when you do not use the steam infusion method. Gin production takes place in 3 different ways:
1. Cold compounding:
Cold blend of a very strong alcohol and herbs also called "Bath Gin". You get an essence that is filtered and mixed with a neutral alcohol, which eventually has a strength of at least 37.5%. It is the cheapest way to produce gin and the only legal way to make gin in private.
2. Distilled Gin:
This is the method by which most Gin is produced. The desired herbs are added to alcohol, in which they soak for a few days, after which the alcohol is redistilled. The method is slightly more expensive than method 1. Beefeater Gin is made this way.
3. Steam infusion:
This is the method, with two or more consecutive distillations of a high concentrate of alcohol. With the "Steam infusion" method, the herbs do not touch the alcohol, but are hung in baskets over the alcohol distillate in the outlet funnel on the distillation apparatus, which is a
Pot distiller
. The alcohol strength is adjusted with water after distillation. It is an expensive method of making Gin. Hendrick, Blue Sapphire and Tangueray Gin are made this way.
So it's easy to see what I'm up to:
"Bathtub" Gin
. But it must be tried. The price of Gin determines the method by which it is made.
1
the very cheap Gin.
2
supermarkets Gin, Gordon and Beefeater.
3
the finer Gin, Hendrick, Blue Sapphire and Tangueray.
Put all the spices in the glass and pour a Castelgy London Dry Gin over - (It was on offer in Lidl for DKK 59.95). You can also try Rachmaninoff Vodka - (It was on offer in Lidl for DKK 49.95)
Set the glass warm, dark and dry for 1 week. Once the right flavor is obtained, the schnapps is filtered through a
Swissgold gold filter
into a new clean bottle, so no flavor is lost in paper.
It's an attempt and the result comes here. The experiment ended satisfactorily, the Gin tasted good, was mild, round and had many notes of herbs. But I could not get the "colorless" that a purchased Gin is. Initial filtration as described above, but it was necessary to filter through a coffee filter to get it completely clear - ended with a light brownish-yellow color.
In order for the drink to be called GIN, it is a condition that it is made on juniper, and that the alcohol strength is at min. 37.5%. Then the manufacturers can add its own flavors in the form of fruits, seeds, herbs and roots. Some of the most commonly used spices are seen here: Coriander, Java pepper, Grain of Paradise, Allspice, Angelica root, Licorice root, Orris root (Iris Pallida), Cassia cinnamon, Cardamom seeds, Chinese bark = (Quinine), Quinine pure, Wormwood, Rose petals, Blue Lotus flower, Chamomile flower, Elderflower, Violet flower, Saffron, Laurel leaves, Ginger, Vanilla, Grapefruit, Orange, Lemon, Lime, Black currant and Cucumber. Should you know of more, I would love to hear from you.