May I come up with some good advice, in case you catch a good trout for the smoke oven, buy from saxo these two books: Kringelbach's Salt and Smoke Book and Preben Madsen's Salting and Smoking. You will find really many good recipes. Go up and find these books on saxo's search engine and buy them by email. It's fast and cheap. Search for: Kringelbach: Salt and Smoke Book and Preben Madsen: Salting and Smoking.
Statoil Servicecenter
Strandvejen 86
4600 Køge
Phone 56 65 30 83
DK Tanken
Kirkehøj 2
Vallø, 4600 Køge
Phone 56 26 73 62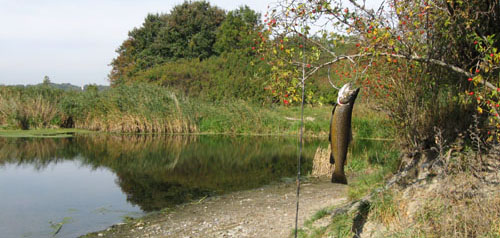 Short and thick male sea trout caught at the lock on September 26, 2008 at. 11.00
Statoil is opposite Hotel Hvide Hus, it is on the way to the fishing place if you come from Køge. Here is also Vallø Camping, which rents out cabins. I have not even tried these cabins as I live near Tryggevælde Creek.
If you come from the other way, you will find DK Tanken in Vallø, which has many groceries and is open for a long time on Sundays and public holidays.
News:
Køge Sportsfiskerforening
is connected to Internet Day Card Sales, where you can buy day cards for several rivers in Denmark online.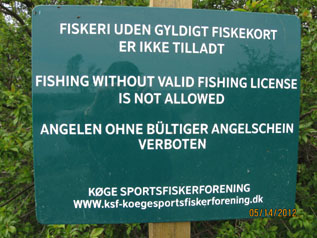 What does "BÜLTIGER" mean?
The translator has probably not been fully awake, which must obviously be "GÜLTIGER".
Here are several translations into other languages:
Polish:
Wedkarstwo bez waznej licencji polowowej nie jest dozwolone
Romanian:
Pescuitul fara licenta de pescuit valabila, nu este permis
Croatian:
Ribolov bez valjanih ribolov nije dopušten
Turkish:
Geçerli avcilik ruhsati olmadan Balikçilik izin verilmiyor
Latin:
Piscandi sine valet piscandi licentia est non liceat
Albanian:
Peshkimi pa licencë peshkimi vlefshme nuk lejohet
Latvian:
Zveja bez derigas zvejas licences, nav atlauta