Västersjön
Next Down
Next UP
Danish version
May I come up with some good advice, in case you catch a good trout for the smoke oven, buy from saxo these two books: Kringelbach's Salt and Smoke Book and Preben Madsen's Salting and Smoking. You will find really many good recipes. Go up and find these books on saxo's search engine and buy them by email. It's fast and cheap. Search for: Kringelbach: Salt and Smoke Book and Preben Madsen: Salting and Smoking.
Fishing licenses are purchased here
Varuhallen Hobby, Ängelholm 0431-143 32
Sportfiskedepån, Helsingborg 042-24 21 10
Dan Tackel, Höganäs 042-34 06 01
Ängelholms Turistbyrå 0431-821 30
Bengt Eliasson, Äspenäs 0431-45 52 29
Fishing license machine by boat space in Ugglehult
Fishing license for one day 40.00 SEK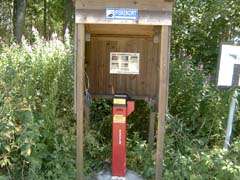 Fishing license machine for 10 SEK. Coin
Allowed fishing forms
Fly fishing, spin fishing and worm fishing
Pimpel fish only when the ice is strong enough
Boats can be rented for SEK 20.00 per hour
Information: Leif Oldén 0431-45 56 46
Fisheries control (evening only) otherwise
Turistbyrå: Ängelholm 0431-821 30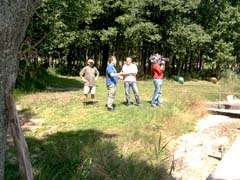 TV2 Film team with Henrik and Peter Rune and John 'on location'
You'll find up to Västersjön by running from Helsingborg on the E6 towards Gothenburg. Just before Hallansåsen find the exit to Hjärnarp. Here you are driving off the highway and drive along Nya Rössjövägan toward the lake. The machine for fishing license and boat rental, you find in Ugglehult, located in the northwestern part of the lake. Look at the
map
here, where it is. Distance from Helsingborg approx. 50 km or a half hour drive. It is possible to drive around the lake, which is 4 km long east-west and 1.5 km wide north-south.