At the bottom of Opløfjorden in Nærøy municipality you find the old industrial site
Salsbruket
in Ytre Namdal.
Salsbruket
is not something you run for, but simply takes on an excursion from Namsen (61 km from Grong). It is a small river called Opløelva, with outlet in Opløfjorden, which again leads to Fold Fjorden. It is a short distance you can go fishing, and it is in principle only by high tide, you can go fishing when the salmon come up with the tide.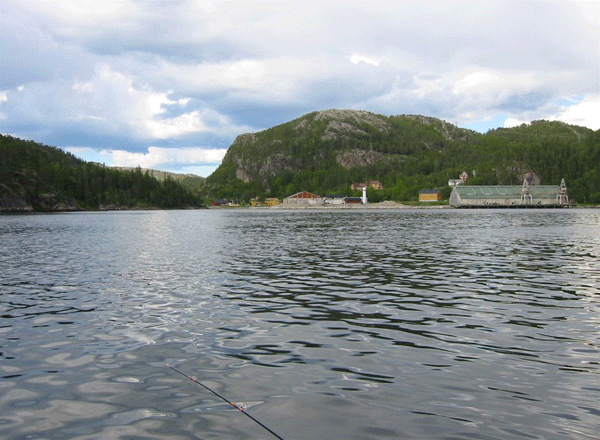 The river mouths into the fjord. There are lots of saithe, cod and ling
We arrived at low tide and bought fishing license in the old pub - I think it is called
"Kafe Moose"
- and went far down to the river, measured in vertical direction. Suddenly we had to flee 3-4 m up the slopes when the tide came. Then came the salmon too, I had the first salmon on the hook after 10 minutes. It was a brief fight, because it was not possible to steer the salmon around the many rocks that are at the bottom of the river, so the line was cut. New stronger line on the fishing reel and the same fate happened again after half an hour. What can one learn from this? You must take all gear with you when you go on an excursion. Well! at low tide one catches saithe and cod, so the dinner was saved for this time.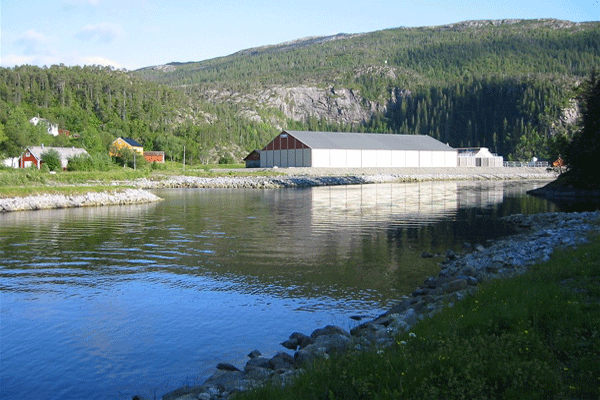 The estuary of the river in the fjord for the piece of salmon
The fish stretch ends at the point and notched to the left. By high tide there is water all the way up to the edge of the rocks, which are seen on both sides of the river. You only see the local fishermen 1 hour before and after high tide. But then they also go home with today's ration - a salmon.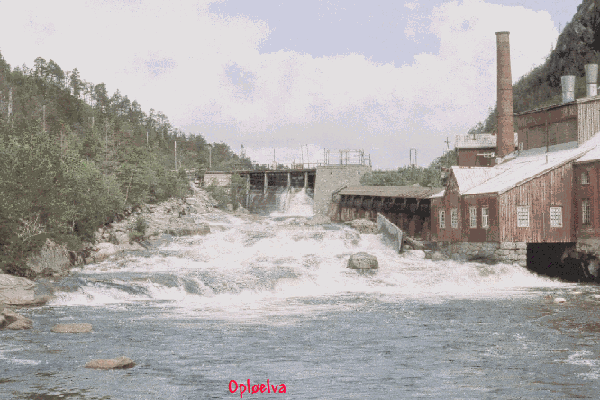 The river's outlet in the fjord before the fire in 1985
If you want to read about Salsbruket's history and leaching of gold in the river, visit
Svein Idar Iversens
on facebook, he previously had a web site. Svein has kindly lent this picture of the burnt factory to my website. The old picture of the outlet is from 1974, that was before the factory burned down in 1985.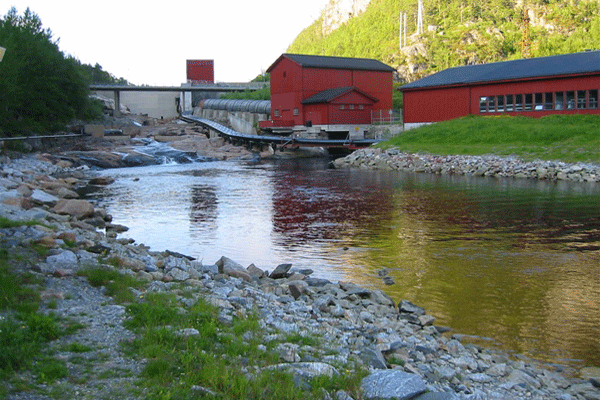 The river's outlet in the fjord after the fire. The stretch here always yields salmon, but there are large rocks in the river
The green piece of grass in front of the red house is the fish stretch, it is less than 100 meters. The picture is taken at almost low tide and there is no water flowing through the house to the left. You can just glimpses the hole in the basement, where the water must flow out and the salmon pull up.