My grandfather Rudolph Nielsen director of Varde Steel plant and co-founder of Varde Sportsfiskerforening in 1926 and my father Foundry Master Walter Nielsen at Varde Steel plant with "Varde Creek Laksen" from 1928. There is no official weight on the salmon, but it measured approx. 120 cm and was thick and fat. Another Varde Creek salmon from 1938, unfortunately no data on the salmon, but as you can see, the size of a 4-5 year old girl. Behind there is again a salmon from 1950, you see that they get smaller with time. And there were also fewer salmon as the pollution from Grindsted Chemical Factory progressed.
I myself lived as a child 300 m from Varde Creek, and I remember from the time when the money was small, my father went to the creek for an hour and came home with dinner. That was also the time when farm workers on the farms along Varde Creek conditioned themselves not to get salmon more than three times a week. Later in the 50s and 60s, the creek was destroyed by the industry that was laid out along the creek. They discharged wastewater directly into the river, so the fish smelled and tasted of carbol. Now the river has been cleaned again and also put in the old sling, so that salmon and trout can be caught again.
Note that the salmon is totally protected for three years from 2001 to 2003 to preserve the local tribe. But what good is this when Karlsgårde El. Work stops for the salmon's spawning grounds upstream of the plant. Many salmon and trout swim confused around in the creek at the plant, and die due to stress in the hot water. The lucky ones who find the salmon-ladder are again exposed to danger when they jump from chamber to chamber. They jump over the pool edge and end up on land, only to end up as mink feet or fox feet.
See Henning's "Varde Creek Salmon" from 2000 by moving the cursor over the image. It's really nice. Henning caught his "Varde Creek salmon" on May 2, 2000. It was 16.4 kg and 121 cm, fitness factor 0.93. It was caught with a spoon blink, it is said to be one of the cheap Korea spoon blink. Good that it lasted, because I have tried these spoon blink myself, and the spring rings can straighten out. A big congratulations you must have.
To read more about Henning's catch and the big salmon in Varde Creek, I recommend that you enter the
Danmarks Sportsfiskerforbund
website and find No. 5 from 2000.
Anno 2012:
Above is written a lot about the miserable conditions Varde Creek has been exposed to for the last 50 years, but now it is moving strongly forward with the new initiatives that the river has undergone. This is something the new generation of anglers can look forward to and I also hope to be able to catch a Varde Salmon in the caliber that my parents and grandparents got on the hook.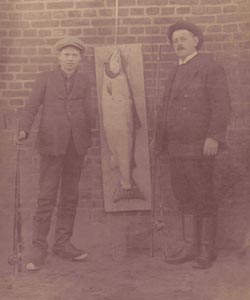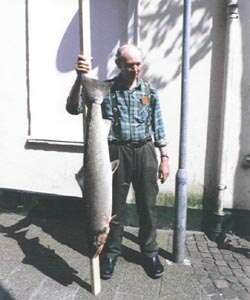 My father and grandfather with the salmon from 1928. Henning with salmon from 2000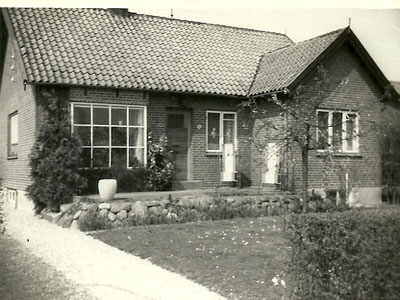 My childhood home near Varde Creek 1960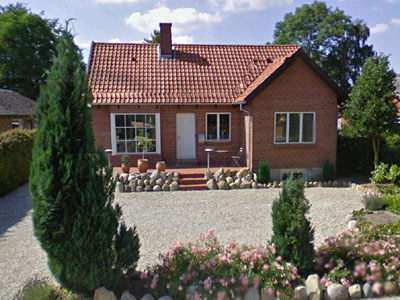 My childhood home near Varde Creek 2010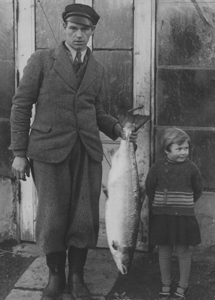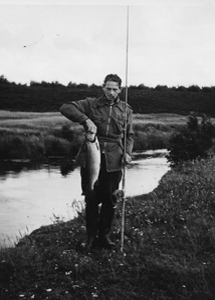 My father with a salmon from 1938 and a salmon from 1950
Anno 2016:
Here comes a fishing report from 2016 with two good fishing buddies from my hometown Varde. I met Bumle and Brem several years ago at Langå Camping, where we fished in Gudenåen. It turned out that we had common ancestry in Varde, and ever since we have met in Varde for the premiere in Varde Creek.
It is not because we have emptied the Creek for fish, for the only thing we have caught so far are a few sea trout and some pike. Maybe a grayling that I lost last year - 2015. I hope we can keep the tradition alive, because we have a lot of fun by the Creek - the bonfire and the hot soup. Bumble and Brem I will be back next year.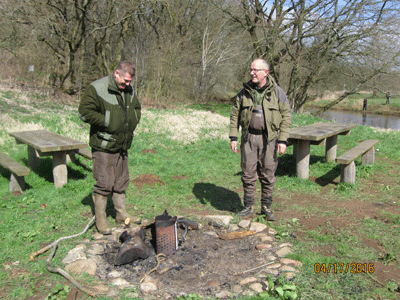 Bumble and Brem are looking for a suitable bonfire place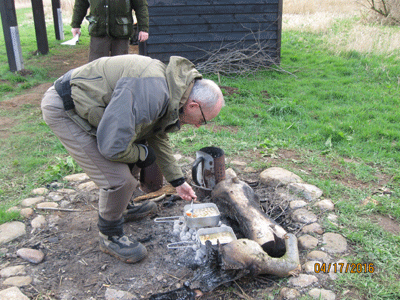 Bumble lights the fire for his brought-in soup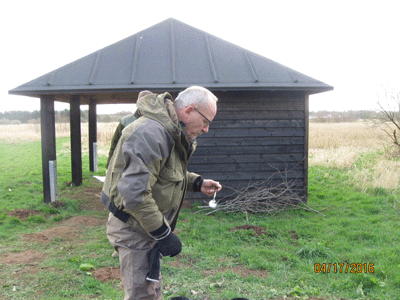 Bumle tests the soup to see if it is hot enough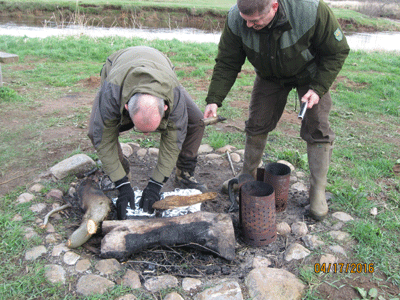 No, we must have put the lid on, here tinfoil is used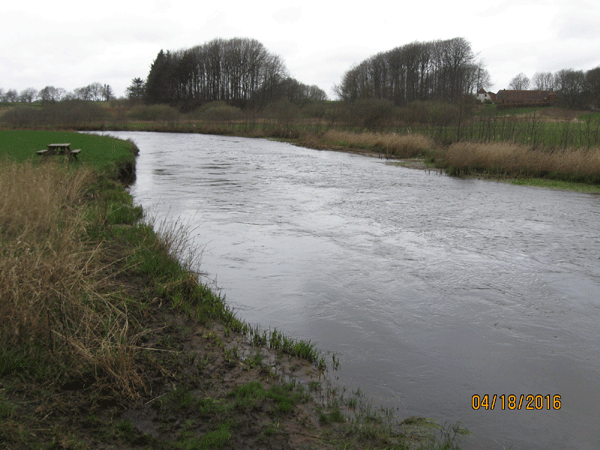 Varde Creek downstream the Shelter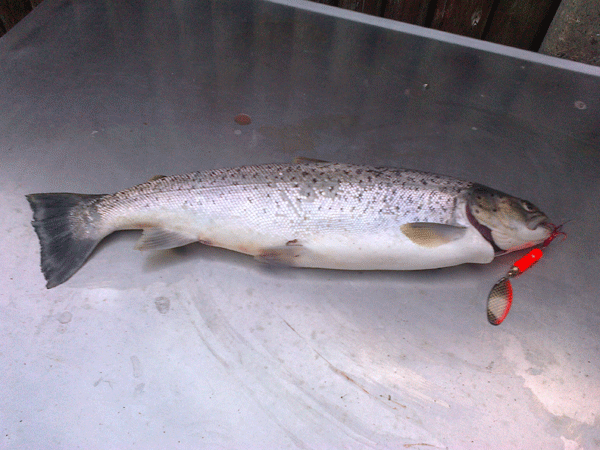 Brems sea trout 47 cm, 1.25 kg, fitness factor 1.2
Anno 2017:
In 2017, I returned to Varde Creek and my 2 fishing buddies, but that was in September, when both salmon and trout are found in large numbers. The salmon quota was exhausted while I was there, so two days later I caught a nice salmon of 70 cm. Salmon to be released must not be weighed and you (preferably) do not see that you take pictures of them, as they must be released back into the river immediately. It was a male salmon (with hook) and in beginning play suit. A 70 cm salmon weighs 3,500 kg according to Fulton's formula, which gives a fitness factor of 1.0.
Anno 2021:
As mentioned above, I was born in Varde, and in 2021 I moved back to Varde and started fishing in Varde Creek and in the surrounding waters seriously. Therefore, Varde Creek has got its own page under
"Club New"
and
"Varde Creek"
. The page requires
"Username"
and
"Password"
. You can get it
here
.
Virkon© S Tablets is active against: Viruses, Bacteria and Fungi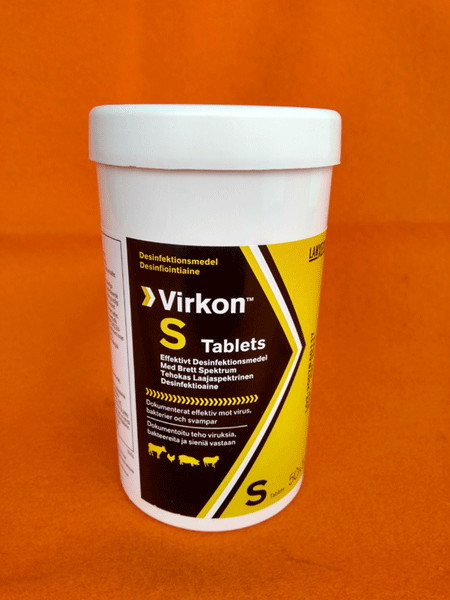 Virkon © - S disinfectant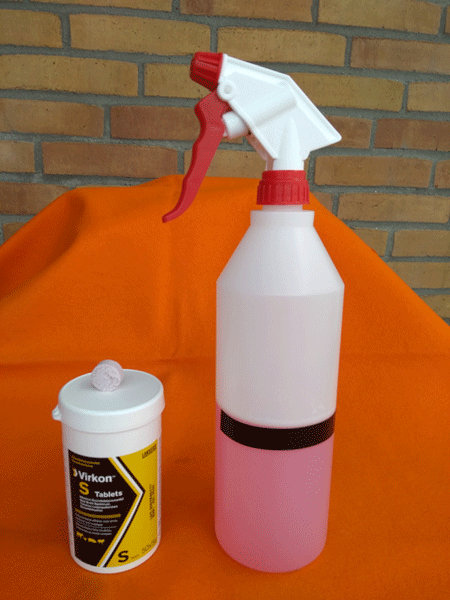 Spray bottle from jem & fix
Use 1 pc, Virkon© - S tablet in 500 mL water. It gives a 1% solution. Wait to use the product until the tablet is completely dissolved in the water. Spray all surfaces with the product. Let the solution work for 10 minutes and then rinse with cold water. The solution should be used within 5 days.
Avoid exposing the solution and tablets to sunlight. Store the tablets cold with a lid below 25 °C and dry below 45% humidity. DO NOT pour the solution and tablets into streams. Rinse hands if you have had prolonged contact with the product.
The can contains a bag of desiccant, which must remain in the can. The tablets give the water a pink color, which indicates that the solution is intact. The color disappears with time and it indicates that the solution has become ineffective - after 7 days. If the can is stored correctly, the shelf life is: See the date on the can. On mine stood July 2022 i.e. one year at least.
1 can with 50 x 5g tablets DKK 286.25 incl. VAT and shipping to the door at VikingDanmark.
Website:
VikingDanmark
e-mail:
VikingDanmark
Data Sheet:
Data sheet in PDF format.
Text & Photo: Jørgen Walter
Opening of Holme Creek on Tuesday, October 12, 2021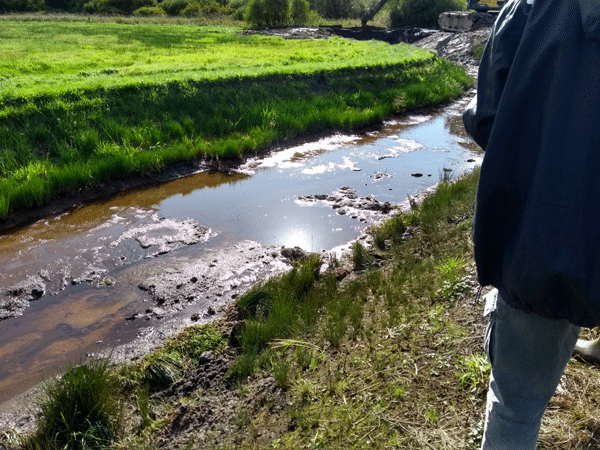 Opening of Holme Creek. Before the water ran
Short history of Holme Creek through 100 years. Holme Creek has supplied water to Karlsgårde Power Plant for 100 years by digging a 7 km long and straight canal to the Power Plant near Hostrup. In this connection, Karlsgårde Lake arose, which formed a buffer of water for the Power Plant. Now the power plant has been closed down and transformed into a museum. Varde municipality, Nordlys and a number of foundations have supported the project of digging the 12 km old Holme Creek up to the original width of 5 meters. Holme Creek flows into Varde Creek 250 meters upstream of the Karlsgårdevejs bridge and downstream of the old sand trap.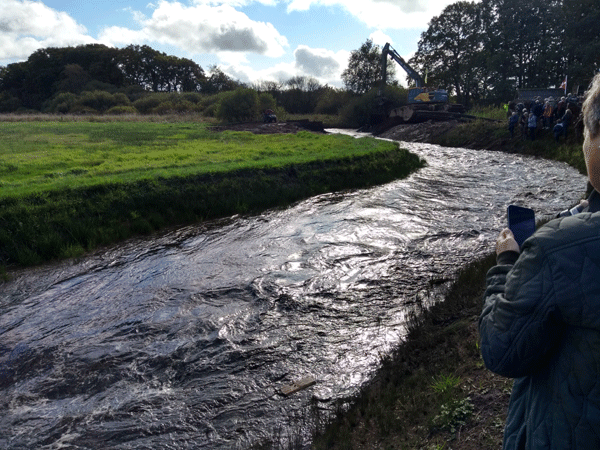 Opening of Holme Creek. Now the water is running
The top picture shows Holme Creek at Hostrup Stemmeværk before it was dug through. The bottom picture shows the excavator in the background, who is in the process of taking the last "SPADES" so that the water can run freely, as is now seen in the picture.
We anglers in VSF are now eagerly waiting to start fishing in Holme Åen; when and where fishing is allowed will be extremely interesting to clarify.
With the restoration of Holme Creek, a good outdoor life must be established with hiking trails, picnic areas, shelters for hikers, cyclists, canoeists and anglers. Probably also spawning grounds for salmon and sea trout. More info can be found on the website:
Holme Creek Projects
.
Do not forget the
Snæbel - Houting
(Coregonus oxyrhynchusder) who has a large part of the credit for the entire Varde Creek and Holme Creek project. A totally protected (red-listed) and almost extinct salmonid, which lives only in a few west-facing streams that run into the Vadehavet. A close relative is the
Helt - Common Whitefish
(Coregonus laveratus), who is a good eating fish and smoked, it is as good as smoked salmon.
Info:
The
Houting
is a salmonid that is closely related to the
Common Whitefish
, but is easily recognizable from the Common Whitefish due to its pointed snout.
Text & Photo: Jørgen Walter