If you walk the stretch from Prambroen to the lock, you will find some good standing places for both trout and perch. Try taking the spot at the high willow tree on the opposite side. In the curve just before the lock, there is a large stone, and often there is also a trout, if there have not been too many on the spot before you. See map here:
Map No. 1
Another good place is upstream "Prambroen" in the first curve right after the big willow tree that hangs beyond the river. Here are often trout, perch and pike, depending on season.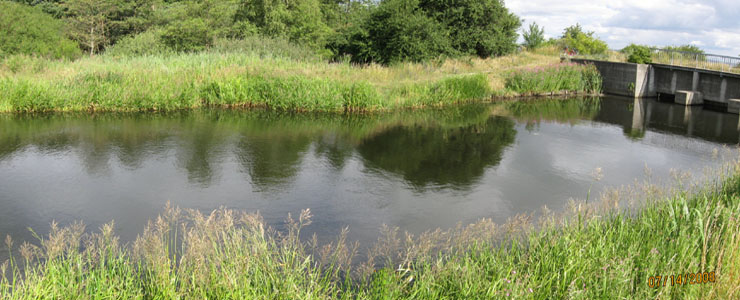 The lock at Tryggevælde Creek
In May 2013, the entire forest area at Odden was cut down - read defaced.
Now there is no more shelter from the west wind at the lock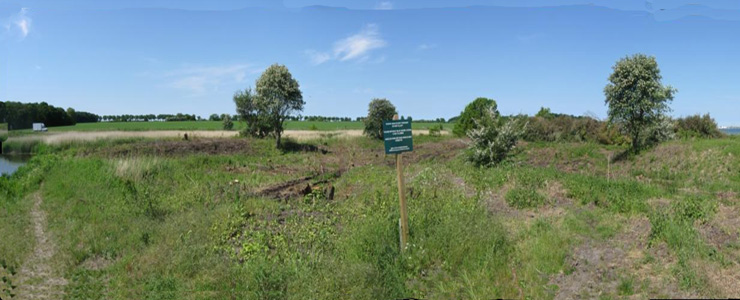 Odden has been cut down - read defaced
Other good section are upstream Varpelev
road bridge (members only). January, 22. 2002, I had a trout of 8 kg. The fish was in good condition, but it was a female, who had been up to spawn, and the whole tail piece was worn by the gravel and stone, so it was released. Hope to see it again in the autumn.
Wednesday March, 13. 2002 I was again in "Trygge" and I caught a male sea trout of 6 kg and 84 cm. This is the tenth big sea trout that I caught this year. However, only kept two because of bleeding from the gills.
There has never been so many trout in "Trygge", which is in this year. But on the other hand, there is "no" perch. I personally believe it has something to do with the trout taking over the perch spawning grounds. So in the future Tryggevælde Creek will being known for a "Sea trout Creek" instead of a "Perch Creek".
A correction for "no" perch: It has been caught perch, but almost exclusively on live fjord shrimp.
All trout caught at home made Spinner from
Webmaster
. The Spinner is really efficient and inexpensive, costing around 15 kroner per peach. I use the type
"Out-line"
size 3, in the colors: Fluo Orange Fluo Yellow, Green, pearl and Glow in Dark. Remember just the tool: Wire Stik to 200.00 kr. Price depends on the number of spin and U.S. dollar exchange rate.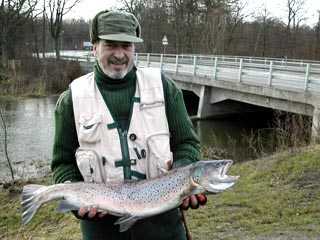 Jørgen: Sea trout of 5 kg caught at Prambroen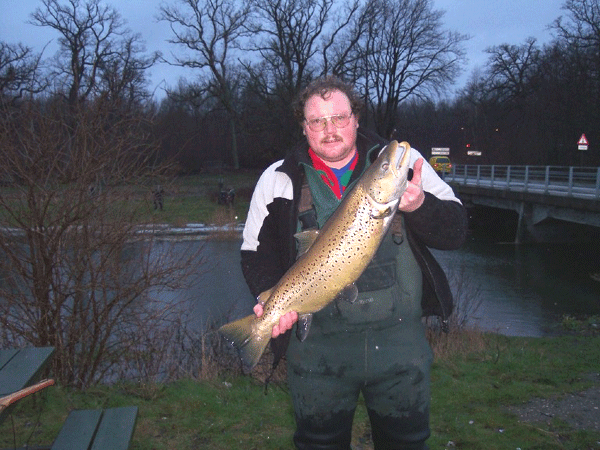 Per: Sea trout of 6.75 kg caught at Prambroen
Saturday February, 1. 2002 was a colleague and I in "Trygge" to try our fishing luck. We started at 10:00 o'clock downstream "Prambroen" and came to the curve before the lock just after 11:00 o'clock. My fish colleague had thrown a couple of times in addition to the aforementioned rock, bang, and then sat on the hook a big "krabat". It was a big male sea trout at 5.5 kg and 82 cm. unfortunately a "spawned out fish" so it was released. Conditioning Factor 1.00; not bad indeed.
After consuming coffee and Danish pastry on the bench at the Prambroen, we just had to try a few throws before heading home. So we decided to turn upstream of the Prambroen by the willow tree. Some throws upstream only gave bottom squats due to the strong current, so I directed the throw obliquely downstream towards the opposite brink. And THEN there was a hug. A female trout in good condition at 5 kg and 79 cm. It must be the so-called "elevator fish". They swim in and out of the creek this spring. Condition factor 1.01.
However, it is absolutely fantastic with "Trygge" this year. On March 20, 2002, I was back in the creek to try my luck at my usual
"hot spots"
. The first cast yielded a small glossy sea trout of 1.6 kg and 53 cm. A few throws later, a crab of 3.5 kg and 70 cm knocked into my spinner and took three flights up in the air before I got the rod tip into the water. I saw the fish in strong backlight, and it shone brightly in the sun. Only the line holds, because the fish was shiny and full of good, strong forces. The trout was a female employed for roe. In order not to be a lie, I just finished with a sea trout of 2.65 kg and 64 cm. Condition factor: 1.07, 1.02 and 1.01.
After taking a break in the year 2003 in "Trygge", I have resumed fishing, but unfortunately I could not be there on January 17, when Køge Sportsfiskerforening held a trout competition in Tryggevælde Creek. In one of the pictures above, Per Henriksen is seen with today's largest male sea trout of 6.75 kg caught at Prambroen in Tryggevælde Creek. So the season turns out to be good, it's just about getting to the creek with the fishing rod.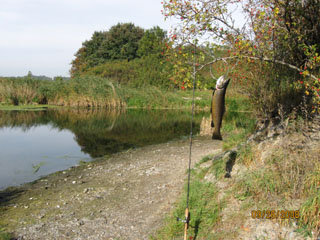 Trout caught at the Lock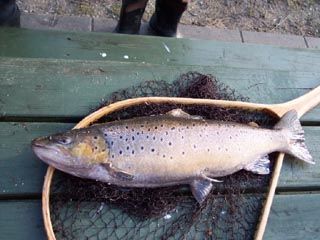 Trout caught at Prambroen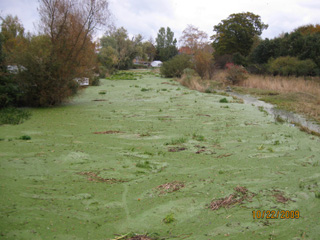 Trygge creek filled with aquatic plants in summer
Fishing in Tryggevælde Creek in 2009 has been a disaster. I have several times gone in vain to the creek to find some water to fish in. The first time I was at the lock in early September, I saw that the flood booms at the Prambroen had been blown to one side, so all the aquatic plants had gathered by the locks. There was so much that one could almost walk on water.
After it was repaired again, all aquatic plants collect now by Prambroen and fishing upstream bridge can not be done. See image above. Is that what Køge Sportsfiskerforening offers its members and anglers with one day license? Or perhaps I should say: Is that what the municipality offers Køge Sportsfiskerforening? I do not think I am getting value for my membership and therefore plans to announce me out of Køge Sportsfiskerforening in 2010.
I think the Board should explain this problem with aquatic plants to the authorities in the municipality, so we again can get a good fishing water in Tryggevælde Creek.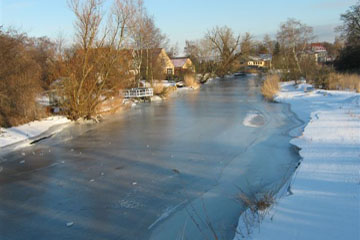 Trygge creek filled with ice in winter at the Prambroen
And then came an ice winter where we could walk on the water again. Well! it will probably be good someday.
If you wait, it will probably be good again. Here's a report from my fishing buddy: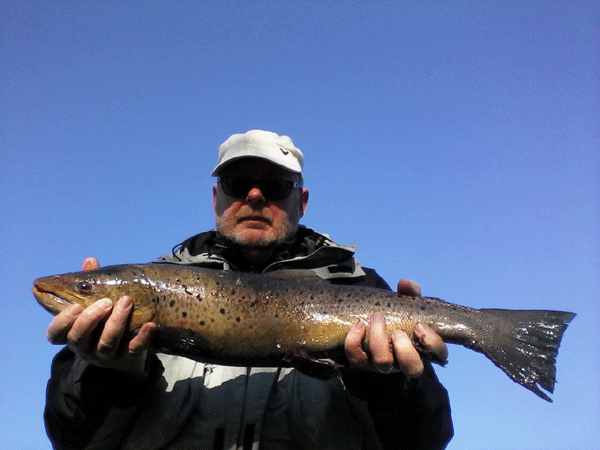 Dan with a sea trout of 2.9 kg and 72 cm
I went for a walk in "Tryggen" a few days after the premiere 2017 - Friday the 20th of January. The weather was beautiful, the sun was shining from a cloudless sky and it was completely windless.
Started fishing the "Swing" at the lock. After a few throws, I saw a shadow following my homemade spinner - Meps 2. At first thought it was a pike. Tossed again the same place all the way over to the edge on the opposite bank. Then came the chop.
The adrenaline
rose a few degrees and after a 10 minute period I got the beast ashore.
A colored sea trout of 2.9 kg and 72 cm - condition factor 0.78. Incidentally tasted good even though it was a descendant. By the way, also had a lot of lice. It was probably an "elevator" fish. They are the ones that go up and down between sea and river. Fishing continued upstream of the Prambroen, but it remained with one trout.
Foto & Tekst: Dan