We have visited a new river in Sweden during our stay in central Sweden. The river meanders through Svåga valley from its source in Skånsjön far to the northwest to its inlet in Norrdellen by Friggesund. It is not a river that one just finds. We were in Ljusne and got "tired" of catching salmon, so we inquired about a good stalling water.
110 km northwest of Ljusne is Friggesund, where the river ends up in the Lake Norrdellen. From here there are two country roads up the river. One on the south side and the other on the north side. We took the north side and drove towards Ängebo. 6 km before Ängebo we came to a small, beautiful camping site called
Sördala Natur Camping
, which is surrounded by the river. However, we did not have to camp but buy fishing licenses. Unfortunately! the camp manager was not there, so we continued to Ängebo, where the fishing license was bought from the local grocery store.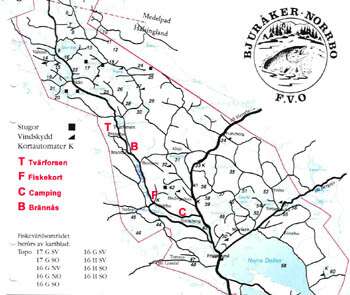 Click
for a larger map
We got our
fishing license
, as well as a map of the area with some good fishing tips from the treasurer lady. We continued towards Brännås. Here where the road leading over the river, there is a resting place on the right hand side with tables and benches, and some interesting fishing spots. First lunch and then go for fishing.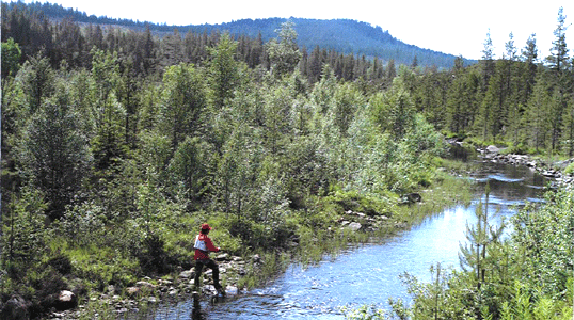 Svågan Älv seen from the bridge
We got only some small grayling, which was released. Slide Show
click here
We split up at the bridge, I went upstream and Dan downstream. It tooks not many minutes before Dan got bite of the "big" fish. If it was a grayling, then it had to be a big one. Believe it or not, it was a brown trout at 1.2 Kg. Up with the modern digital camera, because now a picture had to be taken. Oh my G.., the battery was discharged. Typically Dan, so the trout were released, it was graylings we had come after. The sky was cloudless when we arrived, but after three hours a huge thunderstorm pulled up over our heads so we had to get in the car. Dan fears the thunder, when lightning strikes 50 meters from one. We tried that in Ljusne once. Even for me, it became too much.
Further upstream we saw blue skies, so we continued northwest on until we again came across a bridge with an open-air camp with outdoor open WC. The first wild bite I got was in a "flowing back water", had to be a large trout. But no! a nice perch of 1 Kg. We were above Tvärforsen, where only perch and pike, are found in the river.