If you walk the stretch from Prambroen to the lock, you will find some good standing places for both trout and perch. Try taking the spot at the high willow tree on the opposite side. In the curve just before the lock, there is a large stone, and often there is also a trout, if there have not been too many on the spot before you. See map here:
Map No. 1
Another good place is upstream "Prambroen" in the first curve right after the big willow tree that hangs beyond the creek. Here are often trout, perch and pike, depending on season.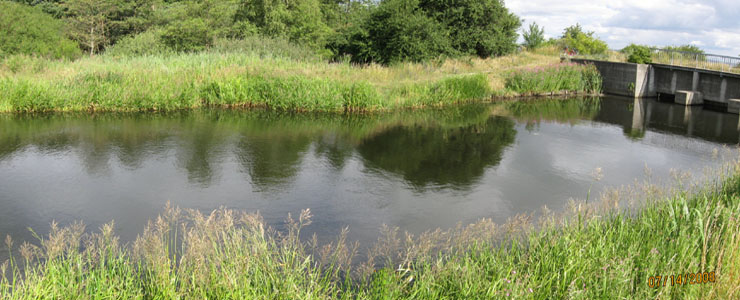 In May 2013, the entire forest area at Odden was cut down - read defaced. Now there is no more shelter from the west wind at the lock
Other good section are upstream Varpelev
road bridge (members only). January, 22. 2002, I had a trout of 8 kg. The fish was in good condition, but it was a female, who had been up to spawn, and the whole tail piece was worn by the gravel and stone, so it was released. Hope to see it again in the autumn.
Wednesday March, 13. 2002 I was again in "Trygge" and I caught a male sea trout of 6 kg and 84 cm. This is the tenth big sea trout that I caught this year. However, only kept two because of bleeding from the gills.
There has never been so many trout in "Trygge", which is in this year. But on the other hand, there is "no" perch. I personally believe it has something to do with the trout taking over the perch spawning grounds. So in the future Tryggevælde Creek will being known for a "Sea trout Creek" instead of a "Perch Creek".
A correction for "no" perch: It has been caught perch, but almost exclusively on live fjord shrimp.
All trout caught at home made Spinner from
Webmaster
. The Spinner is really efficient and inexpensive, costing around 15 kroner per peach. I use the type
"Out-line"
size 3, in the colors: Fluo Orange Fluo Yellow, Green, pearl and Glow in Dark. Remember just the tool: Wire Stik to 200.00 kr. Price depends on the number of spin and U.S. dollar exchange rate.
Fishing license
to "Trygge" you can buy here. See also
Catch Reports
.